There have been so many wonderful ladies that I have met through my blog!!!
I so wish I could meet a lot of you in real life!!!
I swear, I click with a lot of you when reading your posts, and looking at all your lovely photos!!!
But if you notice On the right side of my blog--------->
There are quite a few of Blog Hops, And Link-ups over there.
But 2 of them are women who I have chatted up with through email, and blog posts, and Facebook.
The first one is Laura Hernandez for
Our Reflection
She offered to do a button swap.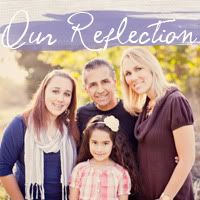 She helped walk me through sending my button to her. And had nothing but lovely words to say.
Not only does she blog she is also a Photographer. She is a gorgeous, sweet woman who I would like to meet in real life!!!
Head over to her blog, and follow her,
She has insightful posts, fun giveaways, and you cannot get enough of her!!!
My other lovely button swap is with Kelly over at

She is the sweetest thing, she is also a newbie blogger herself!!! She won my Paparazzi giveaway, and since then, we have talked through email ,and blog!!!
She is a beautiful, laid back, and is 100 percent real!!!
I like checking her new posts everyday. Like to see what is new in her life!!!
I think if we were real life friends I am sure we would get along perfectly!!!
Head over to her blog, and follow her!!!
There you will find Inspiration,
mommy love,
and food,and fashion!!!
And I may or may not be featuring her next month to get to know a little more about the wonderful gal!!! you will have to wait and see!!! :)